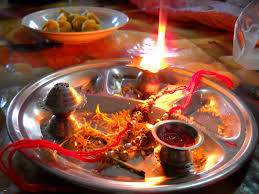 The colorful thread on the hands is the sweetest way of symbolizing a sibling relationship in India. We call it "rakhi" or "raksha bandhan". If we dwell into its history then we will come across a brutal fact that the celebration of Raksha bandhan did not start out of love related ones but from a devastating fear of the unknown, may be an invader or a hit and runner savage group. Yes! It's true indeed the north India has always been the door to enter India from land routes and besides philosophers, merchants and travelers many tribes and groups came for looting and mad killing expeditions like huns and changezkhan to quote few. The fear of weak gender sought a promise from its closed buddy friend and who will even lay his life for protecting his sweet sisters. The brothers of India were given this duty of protection of their physically sisters. Gradually the practice in one village grew and spread to other parts of India. The practice was in consonance with the tradition of responsibility and idea of Rina in pur scriptures. Like we have Rina of Guru, Mother, Father and Atithi similarly the brothers accepted it their moral duty to protect their sisters. In countryside the concept of sisterhood is beyond blood relations within family and it became not just a personal promise between real brother and sister but there are areas in India where mass celebration is shared among cousins and it became a community function.
The way of practice of Raksha bandhan are different in different part of India. Generally the sisters will tie the holy thread on the arms of brothers and mark red color 'tilak' on the forehead and offer a sweet piece then the brother will take out some money as the little kiddo sister is expecting in her naughty smiles. This is the most common way it is shared in India nowadays. The Cadbury raksha bandhan celebrations are largely in the air. This is how all traditions have been changing in India in piecemeal manner maintain the grand tradition of "continuity with change".
The raksha bandhan threads have a very sweet role in our national movement also. During the partition of Bengal the colonial masters attempted to divide the Hindu Muslim unity by dividing Bengal on religious lines. Then the Hindus and Muslims tied the rakhi to one another to symbolizing their unbreakable unity against the British intentions. The movement was successful and finally Bengal was reunited back. This is the power of this little thread of weakest cotton fibers.
Although it began as a counter to fear perception but it evolved and borrowed from the most delicate and yet strongest family emotions in India and it has become the unique way of celebration of human relations in India.